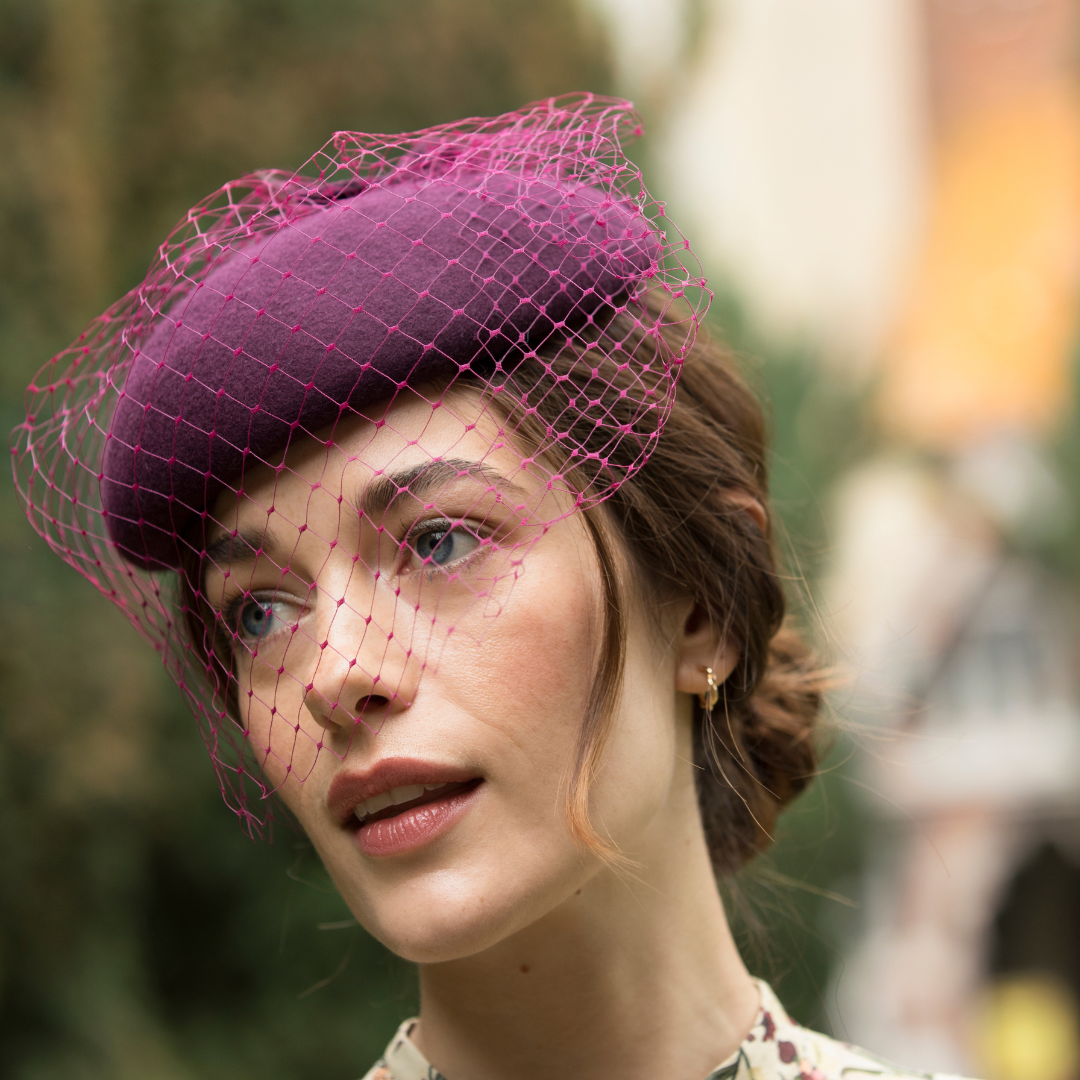 7 Tips on how to wear a hat to a wedding
When the warmer days and longer nights start rolling in, wedding season gets into full swing. It's an exciting time full of merriment, new beginnings and of course, a new outfit is absolutely essential for marking the occasion. When you're busy picking out your wedding ensembles, you may think about adding a hat to complete the look and add a touch of elegance, but you may also be apprehensive as you're unsure how to wear a wedding hat and style one. 
In this blog, we've got all the tips you need for wearing a hat to a wedding, so you can avoid any faux pas and feel comfortable and stylish with your headpiece. 
1. Check the dress code
The absolute number one rule for wearing a hat to a wedding is to check the dress code beforehand and if there is one, you should always respect it and stick to it. It may be that the wedding has an extravagant dress code where you can bring out your biggest hats and fanciest creations, whereas others may be more low-key and relaxed. Typically, the host will let you know if there's a dress code on the invitation.
2) Choose a hat that suits you
When you're choosing a hat to wear, it's vital to pick one that suits you and that you're going to be comfortable wearing all day. Picking a complimentary hat can be a bit of an alien concept for some, but as a general rule, if you're tall, choose a hat with a wider brim and avoid tall hats. For shorter frames, go for a smaller hat like a pillbox so as not to dwarf your petite stature. Brims that turn up tend to be more flattering and will avoid casting shadows which may be an issue for taking those all-important photographs if it's a sunny day. 
3. A note on photographs
Another point to consider when wearing a hat to a wedding is to think about the photographs. Don't choose an overly large hat that's going to drown you or hide your face and always be sure to adjust it before any pictures are taken to ensure your face is clearly visible. A good photographer should point out if your face is shadowed or if your hat is askew and will ask you to either remove or adjust it.
4. Mum's the word
If you do choose to wear a hat, there are certain rules you should be aware of. For one, if you're the mother of the groom, it's considered bad taste to wear a larger hat than the mother of the bride, this is a traditional sign of respect to ensure guests don't outshine their hosts. However, there is an exception to this rule if both the bride and groom are co-hosting the wedding, then both are free to wear a hat as large as they like.
5) Embellishing your hat
For those that like to decorate their hat with feathers or pins, remember that it matters which side you decorate. For ladies, hats should be embellished on the right and for men, they should decorate on the left side.
6) Consider the time of day
If you're wondering how to wear a hat to a wedding, the time of day should always directly impact what you wear. The general advice is that your hat should decrease in size as the day goes on, with the exception of the morning. Larger brims in the morning and evening may be thought of as too extravagant as there's no need for them if the sun isn't out. If it's an all-day event, you may want to bring options or stick to a smaller, more versatile hat that can be worn throughout the celebrations. 
7) Do I need to take my hat off for the ceremony?
This is a common concern for hat-wearing guests and why many may choose to avoid a hat altogether for fear of getting it wrong, but the rules are actually quite simple. If you're a lady, hats are seen as fashion accessories and part of an outfit, therefore they don't need to be removed at any point. Gentlemen are expected to remove their hats, especially in religious buildings. Aside from removing hats indoors, men should also remove their hats when speaking to a lady as it's a traditional sign of respect.
When removing or tipping your hat, it's considered rude to let the lining show, so ensure only the outside is visible and hold it toward you with the lining facing you. Interestingly, etiquette dictates that ladies may only remove their hats or fascinators when the mother of the bride does so and until this point, they should stay on.
That's our guide on how to wear a hat to a wedding. Looking for more hat-wearing advice? Check out our article on summer hats for every event and adventure, next.