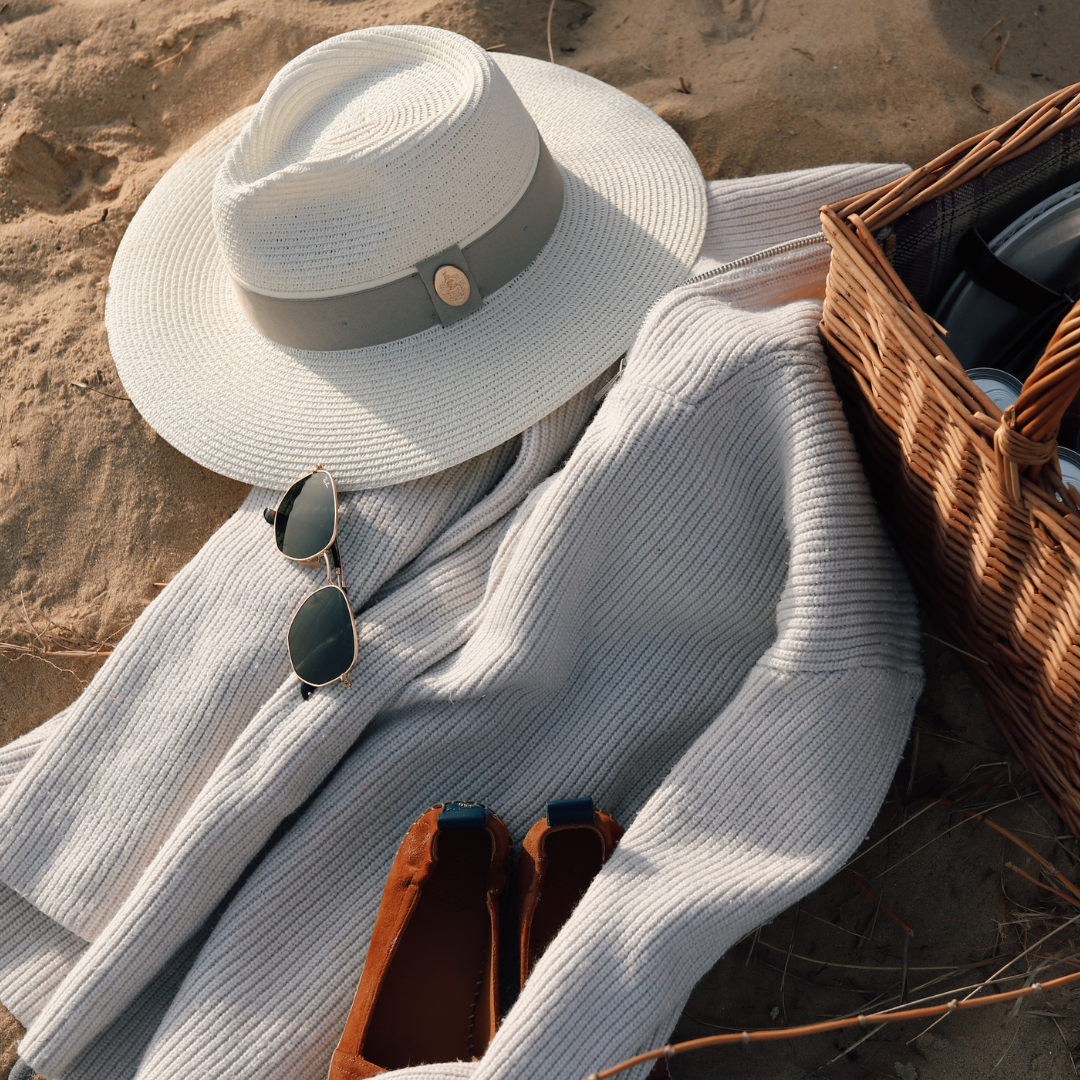 How to style your summer hat for every occasion
With bank holidays and bursts of sunshine now upon us, a season of outdoor events is calling. Whether you have a barbecue, holiday or wedding on the horizon, a summer fedora makes the perfect plus-one.
With bank holidays and bursts of sunshine now upon us, a season of outdoor events is calling. And whether you have a barbecue, holiday or wedding on the horizon, a warm-weather fedora makes the perfect plus-one. Not only is it an effortless way to elevate an outfit, alongside sunscreen and a trusty cover up, a brimmed hat is your best defence against the sun. And once you've found your summer hat, it'll be the accessory you'll rely on and enjoy all season long. 
Our summer hats
All of our summer hats are made from lightweight paper straw and finished with our signature branding and they come in three styles. The Aldeburgh and Orford Fedoras are the same design and shape but have different coloured ribbons, feathers or details. While the Hemley Fedora is our wide-brimmed style that offers even more protection from the sun.
If you're already a fan of our Suffolk fedora, the Orford is its summer-ready sister. It's lightweight with a 6cm-wide brim, so it's compact for travel and ideal for holidays and day trips. Crafted in an elegant cream shade of paper straw, the Orford is finished with our signature branding and ribbon in a choice of six shades. 
Shop the Orford
This sunny version of our popular Suffolk Fedora comes in shades of cream or natural paper straw with four styles to choose from. It's the same size as the Orford fedora and each style is hand finished with elegant guinea or pheasant feathers and a black or brown ribbon.
Shop the Aldeburgh 
For the last couple of years, wide-brimmed summer hats have been capturing our attention and it's a trend that's set to stay. Once you discover how enjoyable (and practical) the Hemley is, it becomes a style favourite. Crafted in natural, navy or cream shades, this statement-making fedora is finished with contrasting ribbons.
 Shop the Hemley
How to wear your summer hat this season
No matter what you're doing this season, your summer hat will always look the part. From chilled-out barbecues to weddings, here's how to complete your look with a Hicks & Brown hat:
Garden party or barbecue
Wear: The Aldeburgh in Cream + striped t-shirt + shorts + sliders.
With distinctive feathers that add refinement, the Aldeburgh is an easy way to turn a casual shorts-and t-shirt look into a chic outfit. It's a comfortable style to wear all day long, and thanks to its lightweight design and cream colour it will keep you cool if the temperature soars.
Day trip to the beach
Wear: The Hemley in Sage + Bikini + shorts.
For days spent on sun-bleached sands and grassy dunes, a laid-back look is the way to go, so the Hemley is an ideal choice. In natural straw it looks at home in the wild, its wide brim will help shade you on the sand, and with a pastel sage ribbon this hat will score you pretty points too.
Henley Regatta
Wear: The Orford in Cornflower + midi skirt + ribbon espadrilles.
In cream paper straw, with cornflower and navy ribbon detailing, there's a real riviera feel to this style. So, whether it's Henley Regatta or a boat trip with friends, nod to nautical by pairing the Orford with wedge-heeled ribbon espadrilles.
Best friend's wedding
Wear: The Hemley in Coral + statement midi dress + heeled sandals.
You might not be the one getting married, but as close friends are VIPs, this is the perfect occasion to elevate your dress look with a stellar hat. The Hemley is a great summer-wedding choice; it cuts a striking silhouette, its coral ribbon adds a pretty-wedding day touch to any look, and it's very photogenic!
Countryside event
Wear: The Aldeburgh in Natural + feminine blouse + blue jeans + white trainers.
Whether you're off to a country show, village cricket or pub lunch, this relaxed outfit will feel good all day long. But the secret to its stylish appeal is in the details. Choosing a blouse with a statement collar creates a unique silhouette, while the Aldeburgh's hand-finished flourish of guinea and pheasant feathers adds a sophisticated finish.
Mediterranean City break
Wear: The Orford with Charcoal ribbon + linen blazer + Bermuda shorts + vest top.
The key to nailing a city-break wardrobe is to pack multi-tasking basics and one or two statement pieces that all work together, and the Orford fedora is the perfect travel accessory. Not only will it keep you cool, it oozes cool. And it's the style to take you from morning coffee, to lounging by the pool, to dinner and drinks in the town square.
These are our top tips on how to style your summer hat for every event and occasion. Looking for more expert styling tips? Check out our blog post.