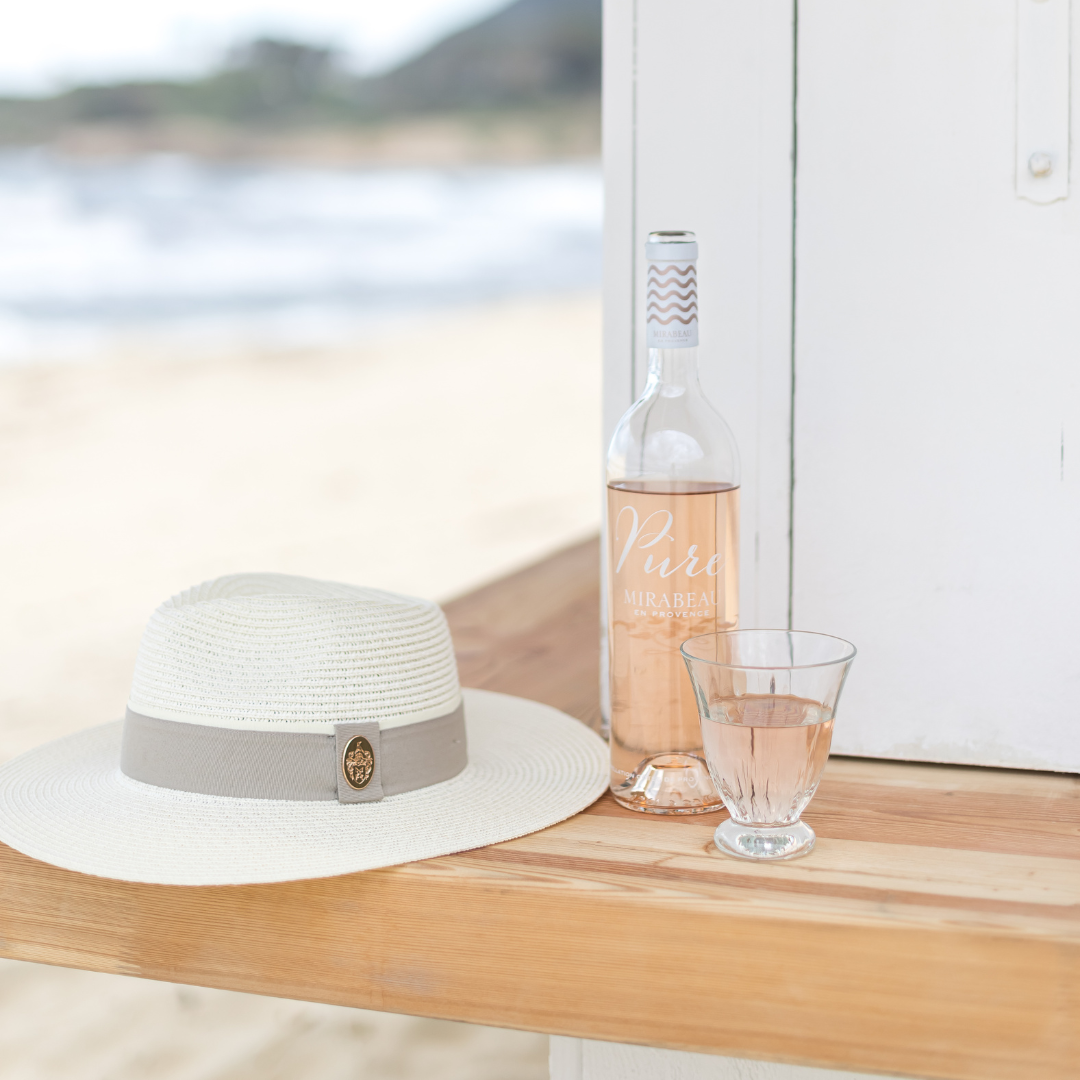 Straw hats and rosé - here's to long summer days
With life gently returning to normal and summer stretching out in front of us, suddenly the days are looking far brighter. So we've decided to turn our attention to spending the next few months as alfresco as possible - and nothing says summertime like picnics, straw hats and ice-cold rosé!
This year, the need to enjoy life, escape and reconnect with people we love is stronger than ever. So to celebrate our new range of warm-weather hats we're collaborating with Maison Mirabeau and launching a competition to get you in the mood for summer.
Famed for producing delicious pale pink wines at their vineyard in Provence, Maison Mirabeau is a natural partner for us. Their brand is synonymous with the summer lifestyle, they're passionate about quality and, like us, founders Stephen and Jeany Cronk took the leap of faith to leave their day jobs and turn their interest into a business - though weather-wise they clearly made the better choice! Moving their family from London to Provence in 2009 to start their adventure, they're now fully immersed in the French way of life and their award-winning wines are sold across the globe. Provence is the region most renowned for rosé - it's been made there since 600 BC - so it's not surprising that Mirabeau's crisp wines pair wonderfully with a variety of foods and, like our stylish summer hats, they suit every occasion.
Whether your plans for summer include coastal escapes, celebrations or lazy days in rose-scented gardens, our new-collection styles are ideal warm-weather companions. While the straw hat has always been a summer classic, its style status has grown on the catwalk over the last few years and wide brimmed styles have come more into focus. But whichever style you choose, there is something joyous, romantic even, about wearing a straw hat in the sunshine and the laid-back elegance it brings.
All of our summer hats are lightweight and easy to wear. The Aldeburgh and Orford Fedoras are the same shape but feature different ribbons and details, so it's just about choosing what suits your agenda and personal style. But if you've got a summer wedding or event coming up, the Orford Fedora with Dusky Pink or Cornflower Blue ribbons are both chic finishing touches. If you're looking for a wider brim, our Hemley Fedoras make a statement and look great with shorts and a t-shirt or a floral dress. Wide brim hats are one of the best ways to protect yourself from the sun, so if you're planning a beach or boat holiday, or heading to Cowes Week, our Hemley collection in navy, cream or natural straw will keep you cool and covered. And of course, a straw hat looks effortlessly chic when you're laid on a picnic blanket sipping rosé - so here's your chance to win the perfect ingredients!
**Competition now closed** Win! A Hicks & Brown SS21 hat and Maison Mirabeau rosé wine
The Hicks & Brown and Maison Mirabeau competition runs from Tuesday 27th April (6pm) until Tuesday 4th May (midnight) and entering is easy! 
1) Follow both @hicksandbrown and @maisonmirabeau on either Facebook or Instagram
2) Like the post.
3) Tag a friend who would love to win.
 Prizes
- A hat of your choice from @hicksandbrown SS21 collection. 
- Three bottles of @maisonmirabeau Pure Provence Rosé. 
This competition will be running on both Instagram and Facebook, so there will be two different winners (one Instagram winner, one Facebook winner).